Worms W.M.D. ( "Weapons of Mass Destruction") is the newest title in the Worms series. It features an all new Worm design, hand-drawn landscapes, vehicles, the ability to enter buildings, new weapons, and more. The game was released on August 23rd, 2016 for the Xbox One, PS4, and PC. The purpose of the game is to "channel the spirit of Worms Armageddon".
List of Weapons and Guns
Worms W.M.D. brings back many old weapons, including Mike's Carpet Bomb, Ming Vase, and more, along with brand new weapons.
An asterisk denotes a pre-order exclusive weapon.
Returning
New
Holy Mine Grenade
Unwanted Present
Super Flatulence Sheep
Electric Sheep
Mega Bunker Buster
Training Shotgun
O.M.G Strike
Bazooka Pie
Demon Strike
Angry Concrete Donkey
Mega Punch
Barbecued Sheep
Tunnel Kit
Furious Prod
Two-Handed Prod
Agile Old Woman
Wormageddon
Minions*
Goat-on-a-Rope*
Turkey Bomb*
Liberty Strike*
TF2 Sentry Gun* (PC-Steam exclusive)
Joanna Dark Attack* (Xbox One exclusive)
O.M.G. L.O.L. Strike
Worm Stinger
Tasty Worm Lick
Drone
W-1 Rocket
Mounted weapons
Vehicles
Tank
Apache Helicopter
Mech Suit
Rocket League Car*
Drillboat
Trailer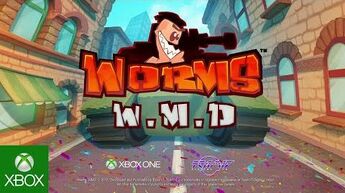 Trivia
Team17 released many teaser tralers, with the video ending in a different meaning for W.M.D:

Weapons of Mass Destruction (Original)
Wonderful Multiplayer Destruction
We've Massive Discounts
We Make Devastation
We'll Make You Dangerous
Worms Must Die
Well, That's Me Dead
Worms in Many Destinations
Walking Mechanised Destruction
We're Mighty Dangerous
We Make Do
Wrongdoers, Madmen & Delinquents
Weaponize Maintain Defend
External links
Ad blocker interference detected!
Wikia is a free-to-use site that makes money from advertising. We have a modified experience for viewers using ad blockers

Wikia is not accessible if you've made further modifications. Remove the custom ad blocker rule(s) and the page will load as expected.