Worms Reloaded/Campaign Mission 6
Information
Mission Type
Race
Difficulty
Very easy
Number of Friendly Worms
1 (100 HP)
Number of Enemy Worms
N/A
Landscape
Manhattan
Enemy Teams
N/A
Reward
100 coins
Bought in Shop?
No
Game
Worms Reloaded
The 6th Mission in the
Worms Reloaded
Campaign is the first race against the clock in the campaign.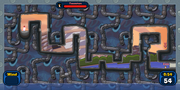 In-Game Description
Using the Jet Pack, make it to the Exit Point before the timer reaches zero. Good luck!
Description
In this mission the player should get from the start to the exit within 60 seconds using just the jetpack and the normal movements. The Jetpack will have an unlimited amount of fuel in this mission. This mission is meant to get the player used to the jetpack's controls.
Weapons
Tips & Tricks
The player should note that this mission's jetpacks have an unlimited amount of fuel, while the normal jetpacks do not.
Ad blocker interference detected!
Wikia is a free-to-use site that makes money from advertising. We have a modified experience for viewers using ad blockers

Wikia is not accessible if you've made further modifications. Remove the custom ad blocker rule(s) and the page will load as expected.