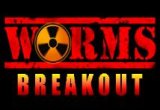 Worms Breakout
is a fan-game, meaning that it isn't actually part of the
Worms
series, and is therefore non-canon. It was developed by Brusi Productions, a group of independent game developers who develop their new games with flash technology.
Worms Breakout
is a "breakout game" where the player's goal in each level is to break all the bricks using a
Worm
to fire weapons at the bricks. The game is free, and can be downloaded from the 
Worms Armageddon
official website
. Click
here
to download the game, or for more information about the game.
Worms Breakout 2
There is also a sequel to
Worms Breakout
, named
Worms Breakout 2
. It has similar game-play to that of
Worms Breakout
, but has some new features, weapons, and also 
Worms Blast
-like backgrounds.
Trivia
These two games are most likely based on Worms Blast.
The graphics in the games are the same as Worms Armageddon's graphics (the Worm design, weapon design, and water appearance).
Gallery
External links
Ad blocker interference detected!
Wikia is a free-to-use site that makes money from advertising. We have a modified experience for viewers using ad blockers

Wikia is not accessible if you've made further modifications. Remove the custom ad blocker rule(s) and the page will load as expected.