Worms: Revolution
Talk

1
304pages on
this wiki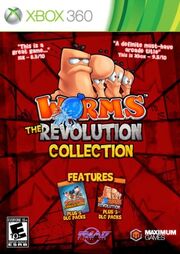 Worms: Revolution

Developer(s)

Publisher(s)

Platform(s)

Xbox360, Playstation 3,Ps Vita, PC

Release Date(s)

October 10, 2012

Rating(s)

ESRB: Everyone 10+

Genre(s)

Turn-based strategy game
Worms: Revolution is a strategy game developed and published by Team17, and was released on October 10, 2012, for consoles and PC. Among the most highlighted features of the game is the introduction of a brand new engine, which is able to render 3D in a 2D environment. The new engine also made it possible for advanced water physics (hence the water baloon on the title logo), which also made it possible to generate water ponds above the actual water level, unlike previous worms games.

Another new feature is classes, which enables specific worms to have specific abilities, thus adding further customization for the player.
It also features some of the classic worms weapons, such as the Super Sheep and the Holy Hand Grenade.
A retail version of Worms: Revolution entitled "Worms: The Revolution Collection" was released on May 3rd, 2013, exclusively to the Xbox 360. It will contain the actual game & all of its downloadable content packs as well as Worms 2: Armageddon & all of that game's respectable DLC as well. The US version will be released on October 15, 2013. Also a Playstation Vita version called Worms Revolution Extreme is due in Q3 2013.
Please note that this weapon list is still in development, so if you see anything missing/wrong, please edit!
Utilities
Edit
*Bolded text are unlocked via DLC.
The Soldier is the normal looking worm that has been in every game before this. He is the first class and the all-rounder.
The Scout is a tiny nimble worm which can jump very far, but he can get flung really far when hit with a bat. Another advantage is that since the scout is so small, when he uses the blowtorch he makes a hole so small that the other classes can't fit through. He also gets twice as much fuel for the Jet Pack.
Scientist:
Edit
The Scientist is the one with a big crainium. While he is alive all worms on that team will get 5 health per turn. He can also make enhanced versions of Magnets and Sentries. The downside is that he isn't a frontline fighter.
The Heavy is a big bulky worm which is very slow. He can however not be moved easily and can knock worms back far. The Heavy will also deal more damage with weapons such as grenades, bazookas, missiles, etc.
Worms Revolution Extreme
Edit
Worms Revolution Extreme is due to be released on the Playstation Vita in Q3 2013. It features all the DLC from the console versions. It also features touchscreen controls, a cross saving system and a cross gifting feature called Treasure Mode where players can link up with the Vita or PS3 to unlock 10 special gifts using the lock and key system.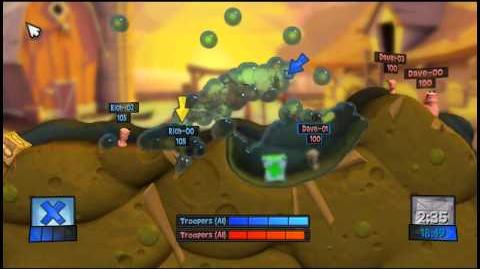 This page needs MORE information. Use your knowledge to add and contribute your knowledge to worms wiki. Simply press the edit button above and insert some knowlege.