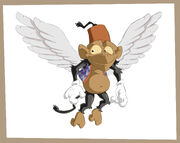 The Winged Monkey is a new utility introduced in Worms Clan Wars. When selected, a monkey with wings appears. The player can move it to the desired location, and then toggle between different Physics Objects to spawn and trap enemies.
Ad blocker interference detected!
Wikia is a free-to-use site that makes money from advertising. We have a modified experience for viewers using ad blockers

Wikia is not accessible if you've made further modifications. Remove the custom ad blocker rule(s) and the page will load as expected.