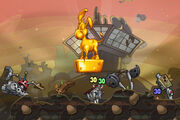 The Golden Donkey is an add-on you can purchase through the App Store or within Worms 2: Armageddon. The purpose of this add-on is to help you whenever you are stuck at a level or have no idea on how to pass it. The Golden Donkey gives you the opportunity to pass a level with just one click. Once purchased, it can be used whenever you need it.
Trivia
The Golden Donkey bears similarities to the Mighty Eagle from Angry Birds, which has the same function. [1]
Ad blocker interference detected!
Wikia is a free-to-use site that makes money from advertising. We have a modified experience for viewers using ad blockers

Wikia is not accessible if you've made further modifications. Remove the custom ad blocker rule(s) and the page will load as expected.