Poison Strike
Information
Type
Air Strike
Range
Can hit anything in open-air
Damage
10 HP/Missile
Additional effects
Poisoning worms
Appears in
Worms 2: Armageddon and Worms Reloaded.
Affected by
Gravity

Wind

Electromagnets
The Poison Strike weapon first appeared in Worms 2: Armageddon. It is also available in its extended port, Worms: Reloaded. This weapon is basically the same weapon as Air Strike, except that it releases poison in stead of blast damage, and does not create holes in the ground from where the missiles hit.
Description
Working in the same manner as the Air Strike, it will create a poison gas cloud around the area where it hits, poisoning any worms caught in its area of effect and inflicting a small amount of damage each turn. The gas is not affected by wind, since it disappears just after the rockets explode.
Tactics
Use Poison Strike when enemy worms are close to each other in open maps to poison as many as possible.
Along with the other air weapons, the Poison Strike is unavailable in cave maps.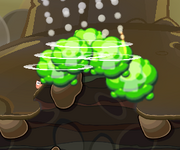 See also
Ad blocker interference detected!
Wikia is a free-to-use site that makes money from advertising. We have a modified experience for viewers using ad blockers

Wikia is not accessible if you've made further modifications. Remove the custom ad blocker rule(s) and the page will load as expected.