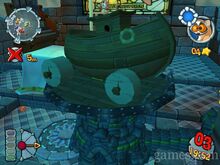 Monkey Troop
is a weapon in
Worms Forts: Under Siege
, accessible through the
Citadel
. When selected, a wooden ship resembling Noah's Ark appears. It fires monkeys in different sizes, which will be launched from the ark towards the enemy.
Like the 50 Stone Canary, the monkeys in the Monkey Troop cannot steer left and right, but can be made to jump using the jump button once they land and start walking.
Ad blocker interference detected!
Wikia is a free-to-use site that makes money from advertising. We have a modified experience for viewers using ad blockers

Wikia is not accessible if you've made further modifications. Remove the custom ad blocker rule(s) and the page will load as expected.