The Fridge Launcher is an exclusive weapon in Worms Forts: Under Siege, accessible through the Castle. When selected, a white fridge filled with small, dinosaur-shaped clusters will be fired. Just like the Trebuchet, the fridge is extremely bouncy, and it will bounce away if it hits before the fuse time is out. The clusters created when the fridge itself explodes explode upon hitting an object, and their velocity is unaffected by that of the fridge itself at the time of explosion. This weapon can be chosen as a Team Weapon.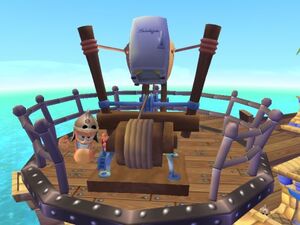 Ad blocker interference detected!
Wikia is a free-to-use site that makes money from advertising. We have a modified experience for viewers using ad blockers

Wikia is not accessible if you've made further modifications. Remove the custom ad blocker rule(s) and the page will load as expected.