In Worms Reloaded and Worms 2: Armageddon there are three Firing Ranges.
Description
In the firing ranges, the player can use almost any weapon and utility. The player can also place dummies, targets, adjust the water level and adjust the wind factor.
In-game description
Welcome to the Firing Range! In here you can get to grips with weapons and utilities you will be using within the game. You can pause the game which allows you to place dummy worms, place targets and make changes to the environment. Have fun!
Weapons and utilities
Weapons
Utilities
Not available
Firing Range 1
The first Firing Range is a firing range with an open air. This firing range is fairly big and has got big height-level differences.
Firing Range 2
The second firing range is the only firing range that is inside. This means that the level does not have an open air, which will restrict the use of Air Strikes and other airstrike weapons.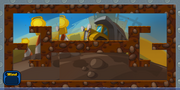 This firing range is perfect for practicing in using the Ninja Rope, since the ninja rope will have an unlimited amount of swings in the firing ranges.
Firing Range 3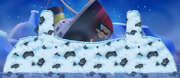 The third and last firing range is another firing range with open air. This firing range is smaller than the first firing range.
Notes
In the firing ranges, the player will have an unlimited amount of Ninja Rope swings.
Ad blocker interference detected!
Wikia is a free-to-use site that makes money from advertising. We have a modified experience for viewers using ad blockers

Wikia is not accessible if you've made further modifications. Remove the custom ad blocker rule(s) and the page will load as expected.