Fatkins Strike
Information
Type
Air Strike
Range
Can hit anything in open air
Damage
Any (80 on a direct hit)
Additional effects
Explosions, bounces around the landscape a few times
Appears in
Worms 4: Mayhem and Worms: Ultimate Mayhem
Affected by
Gravity

Wind

Electromagnets
Fatkins Strike is an Air Strike weapon, introduced in Worms 4: Mayhem and reappeared in Worms: Ultimate Mayhem. Once used, an obese man drops from the helicopter and crashes into the landscape below, exploding and bouncing around the landscape multiple times until it's destroyed.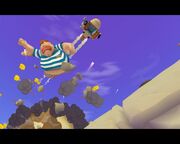 Tips & Tricks
Even though it's tempting to use this weapon foolishly, it should be saved and conserved like an Air Strike.
The Fatkins Strike is extremely unpredictable, so be aware of your own worms.
Trivia
Ad blocker interference detected!
Wikia is a free-to-use site that makes money from advertising. We have a modified experience for viewers using ad blockers

Wikia is not accessible if you've made further modifications. Remove the custom ad blocker rule(s) and the page will load as expected.